Compared with natural stone, artificial stone and imitation stone have bright color, high smoothness, uniform color, good resistance to pressure and wear, good toughness, compact structure, strong and durable, low water absorption, weathering resistance, small color difference, no fading, Low radioactivity, and high-cost performance. As a decorative material with many textures and colors, it can not only beautify indoor and outdoor decoration but also meet the diverse needs of its design. It can also provide architects and designers with a wide range of design space to create space and express natural feelings. Artificial stone and imitation stone also have the advantage of comprehensive utilization of resources, and can not be underestimated in environmental protection and energy conservation. It is also veritable green building material for building materials and has become a widely popular material in modern architecture. As a Glass Stone Pure White Factory, let's share with you how to choose artificial stone and imitation stone.
However, the various standards of artificial stone and imitation stone manufacturers are different. Therefore, the performance quality of artificial stone production equipment provided on the market is also very different. Some inferior quality and poor imitation stone effect have affected the image of the industry. Consumers are When purchasing this kind of products, you should polish your eyes and choose from the following aspects: 1. Brand: If it is used in large quantities, it is recommended to understand the strength and scale of manufacturing imitation stone manufacturers before purchasing. And manufacturing equipment, which industry qualifications and honors have been obtained, is not the original production, etc.; Second, technology: to figure out what kind of technology is used by manufacturers to make imitation stone, because the technology of imitation stone is too much, to engage It seems a bit difficult to understand technology, but as a consumer, we can still identify through two main indicators:
1. Stone grain thickness: The thickness determines the realism, three-dimensionality, and transparency of the stone grain, and also determines the degree of simulation. This is the most critical. Some imitation stone faces only have a thin layer like paper. Go up like stone, carefully compare the texture and you will find that the imitation stone effect is very fake, why? Because it is not thick enough, it can not present the unique three-dimensional and transparent feeling of natural stone. Such products do not dare to do surface deep processing such as surface grooving and chamfering, because once processed, this layer of stone effect is destroyed and exposed. There is a "false" identity; there is also a kind of glass material that is completely transparent like a stone surface. The thickness and transparency are available, but it destroys the natural texture effect of the stone.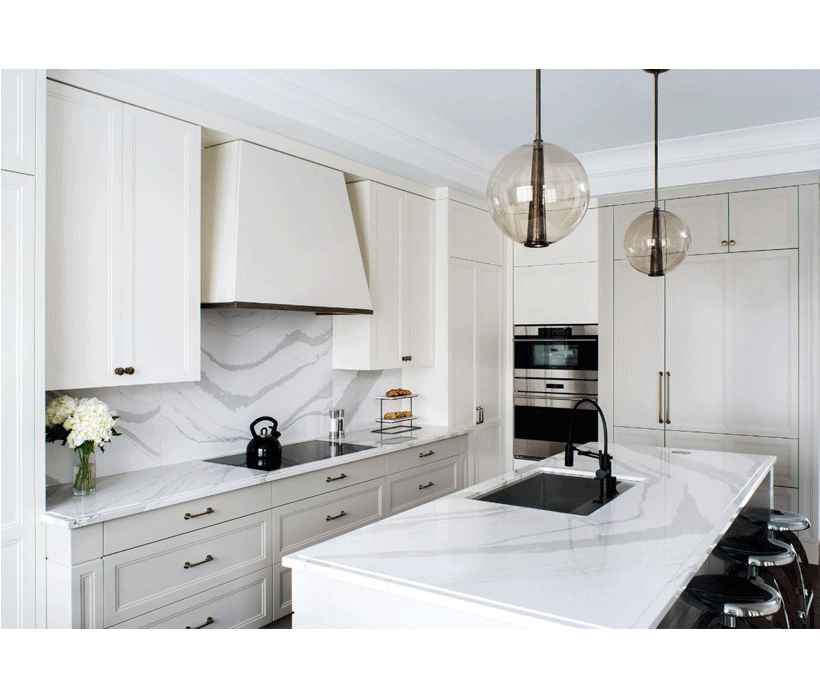 2. Molding process and process technology: Most imitation stone products are made of resin binder and powder. Such imitation stone is relatively poor in high-temperature resistance, wear resistance and hardness. It is recommended to choose special raw materials and large tonnage. The press presses the blank, the automatic kiln is fired at a temperature of 1250 degrees Celsius or higher, and the special polishing equipment is used to polish the imitation stone. Such products can withstand the realism, density, water absorption, transparency, and gloss. The test of time.
Our company provides high-quality Custom Calacatta Quartz Vanity Tops, welcome to inquire, https://www.jinzhaostonechina.com